My review on the movie "Nkauj Nyab"
Posted on 16 December 2008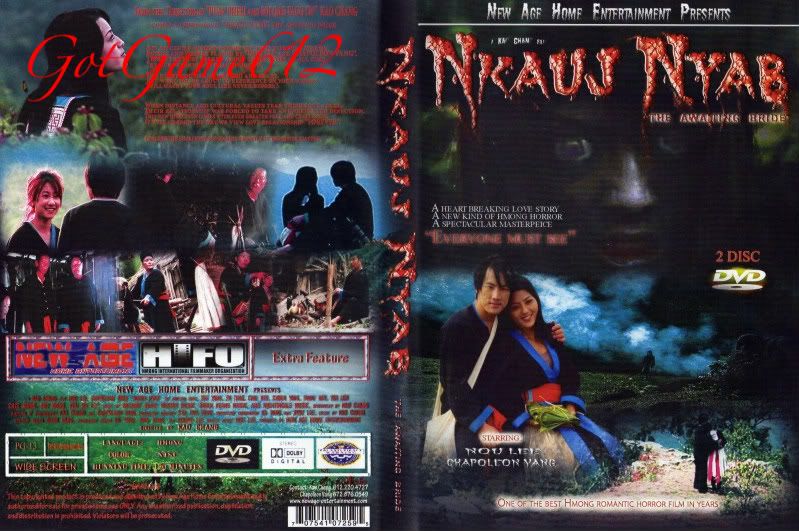 Picture of the movie cover was taken from HMB posted by GotGame612
The video cannot be shown at the moment. Please try again later.
My review on the movie "Nkauj Nyab"…….."The Awaiting Bride"
So I had bought the movie "Nkauj Nyab" when I went up to NC for the New Year after Thanksgiving and never had the chance to watch this movie until this past Saturday. Nkauj Nyab had been a highly anticipated movie for me and few others. So before I watched the movie I had been hearing different opinion of the movie.
I would give this movie a 4 out of 5. Why? Well I thought this movie could have ended much better. I hated the ending or more like I feel as if the ending was a bit rushed. I like the fast pace of the movie although there were some parts that was a bit dragging, how it was directed and the quality of this movie was great, but the ending really killed the movie. Nue Lee did a great job playing Poj Sua. She was amazing, as always her acting was natural, she was beautiful and lovely, and she did a great job playing the dead Poj Suab as well as she played the alive Poj Sua. Chapoleon Vang also did a great job playing as Pob Zeb.
It was great to see our normal comedy actors and actress play a serious role, this tells me that we Hmong people have great talents when we put our mind and our time doing what is needed. All the older characters were our normal comedy actors and actress whose I had always believed that their acting skills needs much improvement, but this movie had proved to me that they really are excellent actors and actresses.
The part when Poj Sua chase after Pob Zeb, I felt that this part was unreal, instead of "flying" or at least they made it seems like Poj Suab was flying they should of made her run after Pob Zeb, it would look more natural and more real rather than flying it was a bit unreal and unnatural. I honestly wasn't scared although it was a horror film it wasn't that scary to me. I guess it's because I already know what was going to happen and I've already know what was going on.
I hated the fact that sometimes the camera movement was way too fast, like when they were trying to indicated that he was looking around him  because he has sense something "strange", I feel like the camera man was rushing to get that part done and over with. The camera was going so fast that we didn't get the chance to see or feel what he was sensing. Also the part when Poj Sua was waiting for Pob Zeb at the appointed location and time, she was waiting on him, and waited, but also when she was looking for him, the camera was moving so fast that I also feel as if they were rushing to get that part done and over with.
At the end of the movie, I feel like they had forgotten that the distance between the two villages where at least 2 days and one night of walking distance away. Because they had made it clear in the beginning that he must walk early in the morning and then spend the night in the forest and another day worth of walking before reaching her village, but at the end we were indicated that he was still living in the same house, but when he went hunting, they made us believe that it was only the nearby forest that he had went hunting at and we were indicated that it was only few hours when they went hunting, but at the end, they end up at the nearby forest of which her village was at.  
I just wish they would give us more information for the ending. I feel like it was rushed and there was room for a bit more information before it had ended the way it did.
Overall I give prop to all the hard work for this movie that we all had heard at a young age from stories past down from generations to generations. This ghost story was one of the most told ghost story from what I had remembered and they had did a good job bringing it to life despite the few little flaws. I like the fact that they had really made this movie look ancient and very traditional. The costumes where great, it really was how it should be, everyone dressed in a custom that only was warn during the time of when the story should of taken place. The movie was very traditional in a good way and not over doing any traditions.
Thanks to New Age Home Entertainment for bring us this story that was told to us when we were children.
Meta

Recent Posts

Recent Comments

Categories

Blogroll